Los Americanos: Stories, triumphs, and challenges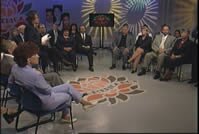 When FocusWest asked leaders of our Latino communities what they wanted our program LOS AMERICANOS to address, these leaders told us about the importance of their culture, the critical support of family and friends, the value of mentors, the importance they place on education, and a goal they share with all Americans -- searching for a "good life." A group of leaders assembled in our studio to spend three hours sharing their perspectives in a moving exchange of stories about triumph, as well as disappointment.
Every culture offers a unique perspective, even perhaps a practice that, if adopted by those in another culture, enriches everyone's lives. The cultures from which immigrants to the United States come are evidenced in the cultural practices that are handed down from generation to generation, and sometimes adapted by friends and neighbors to everyone's benefit.
Education is recognized as key to success in our society. Bilingual education -- instruction in both Spanish and English -- continues to generate debate throughout the west. Will more children learn to read if they are taught in their first language? Is English proficiency a necessary skill to thrive in the United States?
Mentoring takes many forms -- showing an example of success that inspires others, helping the newly arrived understand the new "rules of the road," or simply providing emotional support and encouragement. Is mentoring an important ingredient for success, as well?
Where are the opportunities for a "good life"? And how does my definition of a "good life" differ from yours, or that of someone who lives in Mexico now? New immigrants to the U.S. are looking for a "good life." Where are the challenges in this search?
In addition to these selections from the studio discussion, you can view in-depth stories on education and workforce issues in Wyoming, the importance of mentoring in Idaho, or the challenges of pursuing opportunity in Reno.